Enhancements
Invest with the Portfolio Builder
The Portfolio Builder lets you create research data-driven portfolio strategies, evaluate their simulated historical performance up to three years back, and then invest funds and submit orders to create the portfolio. To get started, open the tool from the Trade section of the New Window dropdown, and click Create a New Strategy.
Investment Amount and Long/Short Leverage -Specify an investment amount that will be used to calculate simulated historical performance, and then specify the percentage of that amount you want to allocate to creating long (up to 500%) and short (up to 300%) positions. Select Filter by Industry to display the Industry Filter. Specify industries to include in your hypothetical portfolio, and set limits on how much of each industry to include as long and/or short positions. Optionally define restrictions on all or specific stocks.
Universe - Define the universe of equities using index and price filters.
Investment Strategy - Define how your new portfolio strategy should invest. Invest in stocks according to their ranking by 11 top research providers.
Backtest Settings - Set the time period over which back testing results are displayed and the index against which performance is charted. Elect to optimize the weight of positions based on highest return, lowest variance or highest Sharpe ratio, and the weight of ranking providers.
Invest!
See results displayed directly in the larger Portfolio Builder tool as you make your selections. Once you are satisfied with your investment rules and backtesting results, click the Invest button to create orders to invest in your custom portfolio.
Find out more at our Portfolio Builder Feature in Focus page.
NOTE: Currently Portfolio Builder is only available to individual investors. Note that this tool is being rolled out over the next several weeks and may not yet be available in your account.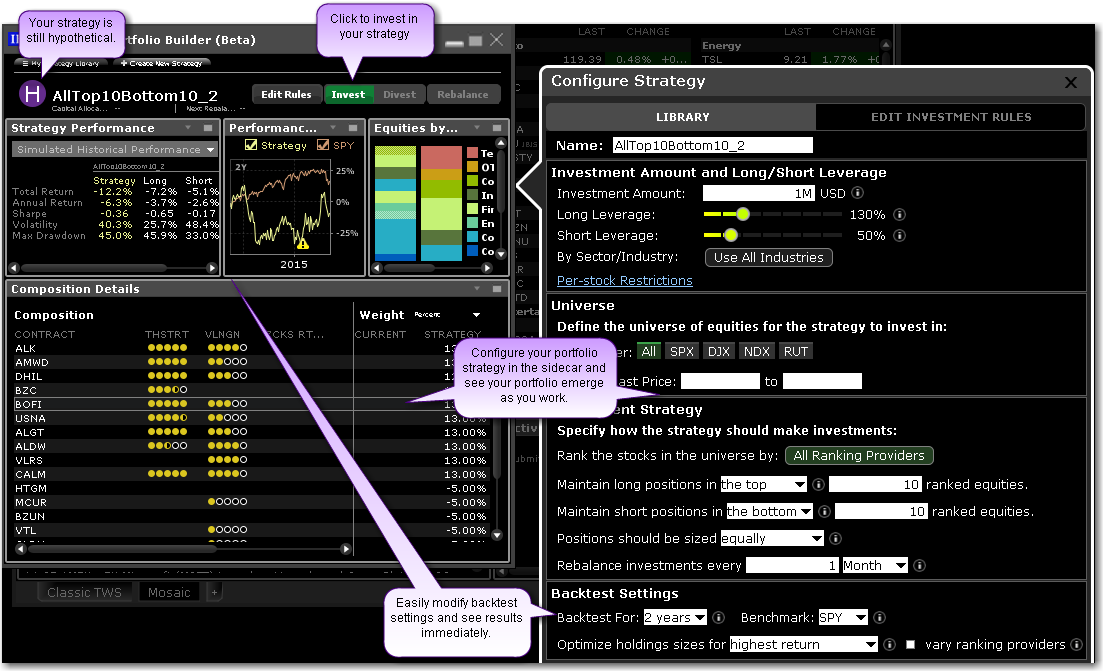 You can see positions in your funded portfolio strategy from within the Portfolio window in both Mosaic and Classic TWS.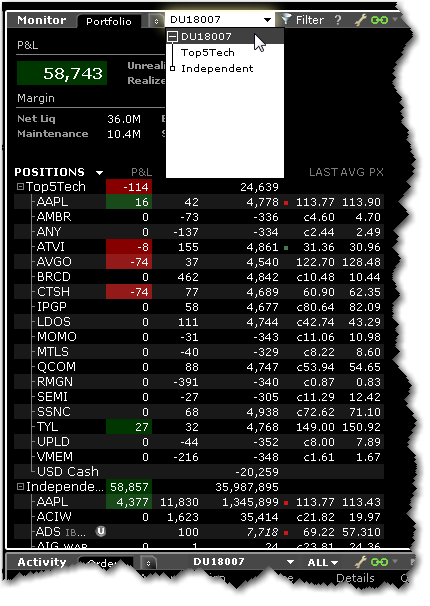 In Mosaic, use the selector next to the Portfolio tab to select:
Your full account portfolio, which shows a net of all positions in all strategies and includes an "+" sign to drill down and see positions per strategy, i.e. my net position in AAPL is 11,872, but when I click the drill down icon I see my position in AAPL for Top5Tech strategy as 42 and in my independent portfolio as 11, 830.

When the full account is selected, a second grouping selector is displayed which allows you to group positions in the full account by strategy.

A named portfolio strategy, i.e. my position in AAPL for my Top5Tech strategy is 42.
The Independent portfolio, which is the full account portfolio minus all portfolio builder strategies, i.e. my position in AAPL is 11, 830.
Risk Navigator/ Implied Volatility Viewer Enhancements
The right-click menu within the P&L Plot has been reworked to enhance usability. The items have been renamed, reordered and categorized within the menu. In addition one new item, Coordinated Price & Volatility curves, has been added. The Implied Volatility Viewer now allows you to import previously exported curves using the Import menu command from the right-click menu. To open the Implied Volatility Viewer, use the New Window dropdown and select Option Analysis>Interactive Analytics>Implied Volatility Viewer.
Order Presets: Size Modification Limit
A new precautionary setting, Size Modification Limit, has been added to Global Configuration. This feature is designed to help ensure you don't accidently change the size limit by greater than 500% when you are asked if you want to modify the size limit for an order that exceeds the specified limit. This field defaults to 500%. To modify the Size Modification Limit, from Global Configuration select Presets from the left pane and then select an asset type. Scroll down to the Precautionary Settings section at the very bottom of the Presets page and enter a new percentage in the Size Modification Limit field.
API: Separate Ports for Production and Paper Accounts
The assigned default API ports for production and paper accounts are now different to allow both accounts to run at the same time. Production port is still 7496 and paper port is now 7497. These ports are automatically assigned when TWS is installed or reinstalled. Likewise, IB Gateway users will see the change of default ports for paper go from 4001 to 4002, leaving 4001 for the production version.
To manually change the port in TWS, from Global Configuration select API and open the Settings page. In the Socket Port field modify the port number.
Mutual Fund Payout Type
The chart in the ETF/Mutual Fund Replicator now identifies the distribution type for Mutual Fund payouts as either Dividend Income or Capital Gains. The tax implications for these different types of distributions may differ.
Open Interest for Futures
A new column, Futures Open Interest, can now be added to TWS windows and displays the current quantity of unsettled futures contracts on the underlying.
© 2001 - 2015 Interactive Brokers LLC. All rights reserved. Any names may be trademarks of their respective owners.