TWS Mosaic provides out-of-the-box usability in a single, comprehensive and intuitive workspace with
quick and easy access to Trader Workstation's trading, order management and portfolio functionality.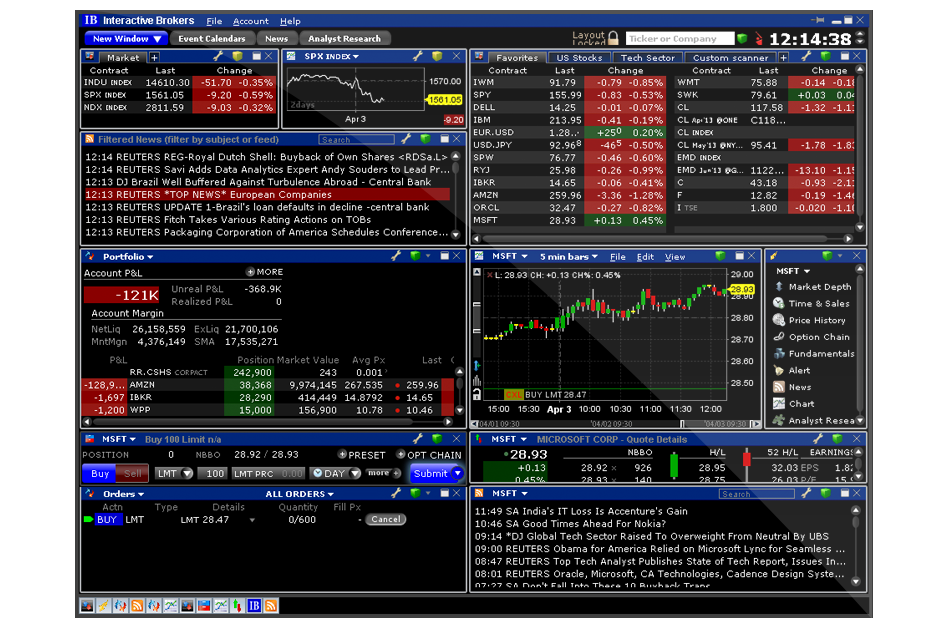 Mosaic offers many benefits to traders:
Get direct access to TWS trading, order, live quoting, technical research and analysis tools all in a single window.
Customize Mosaic's workspace to suit your own trading needs by snapping your favorite TWS trading tools together.
Use the Portfolio window for at-a-glance account summary and position detail, the Order Entry window to formulate and transmit orders instantly, and the Order Monitor to track and modify live orders and review filled and cancelled orders.
Create sophisticated attached orders directly within the Mosaic Orders panel, including bracket, stop limit, profit taker, One Cancels Other, beta, fx order and pair hedging orders.
Add multiple Watchlists to view groups of contracts and create customized Market Scanners.
Add gradients, lines and bars to Mosaic Market Scanners for easy-to-spot trends and patterns.
View interactive, customizable charts that support studies and trendlines.
View real-time streaming general news that you can filter by subject, as well as real-time streaming news for a selected underlying.
Subscribe to the Interactive Brokers Information System (IBIS) to enhance Mosaic with premium newswire and analyst research subscriptions from such tier-one providers as Reuters, Dow Jones, Morningstar and Zacks.