Quotes • Charts • News • Fundamentals
The Interactive Brokers Information System (IBIS) is a comprehensive
news and fundamentals research platform add-on to the TWS.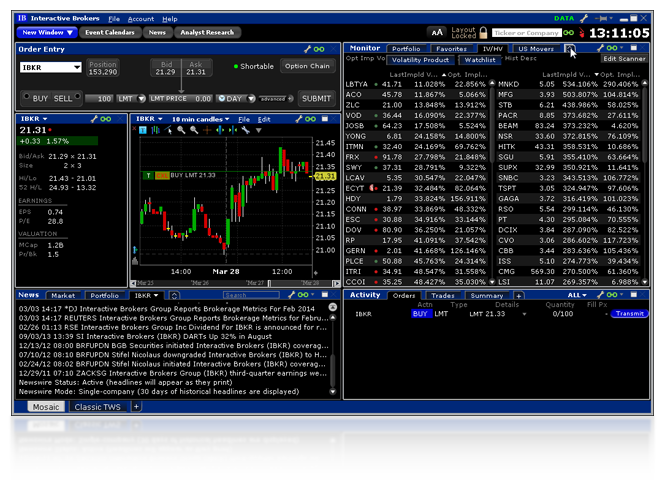 Free Trial
Receive the Research Data Bundle free for the remainder of the calendar month in which you subscribe. At the end of the free trial you will be charged the full monthly fee.
Features include:
Premium Newswires: Real-time tradable headlines from Dow Jones, Reuters, theflyonthewall.com, Briefing.com and US Press Releases.
Fundamentals: Comprehensive financials, estimates and sell-side analyst stats.
Calendars: Earnings and economic indicator schedules with real-time updating actuals.
Analyst Research: Morningstar and Zacks Research.
Free Newswire*: Reuters Global Real-time tradable news.
Thumbnail Charts: Small form-factor tool for display of key indicators.
Workspaces: Easy-to-navigate windows snap together to create a custom trading console.
Daily
Lineup

Read More

Quotes



Read More

Charts &
Alerts

Read More

News



Read More

Fundamentals



Read More

Analyst Research

Read More

Events Calendars

Read More

Snap-Together Workspaces

Read More

Grouping



Read More
Daily Lineup
The morning's headlines and upcoming events in a birds-eye summary view.
Quotes
Watchlists to monitor multiple tickers, Market Scanners to automatically scan for the top performing contracts, Level II market depth to see the depth of book, plus Time & Sales, Option chains and the Greeks.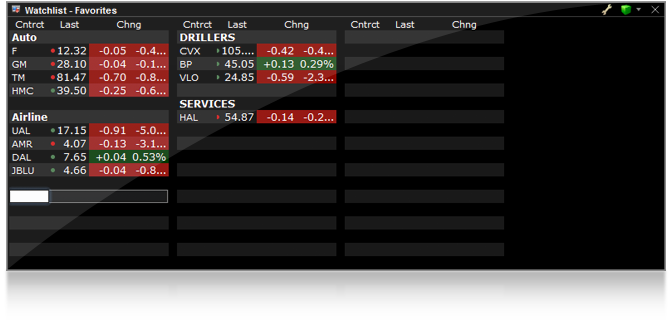 Charts & Alerts
Display multiple charts including thumbnails with comprehensive technical indicators, customizable time period parameters and on-chart annotations. Set Price, Time, Trade and Volume alerts using the Alerts Wizard.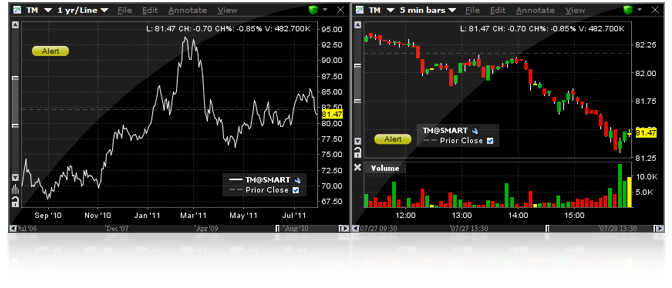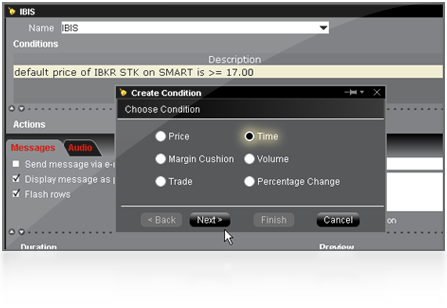 News
Get real time streaming news for multiple companies, a single company, or by subject.

Dow Jones Global Equities News – Comprehensive, on-the-spot international stock market news, with exclusive commentary and analysis.
Dow Jones Global Market News – Comprehensive news on bond and currency markets, key energy and commodities markets, and real-time coverage of major world events.
Dow Jones News Service – More than just reporting events and announcements, Dow Jones News Service provides market statistics, data and calendars, and includes extensive coverage of worldwide markets along with political and economic news.
Reuters Global Newswire – Real-time news that you can filter by industry, topic, portfolio, Watchlist and more.
Briefing.com – Live coverage of market-moving events. Briefing in Play provides live market coverage, earning coverage and broker research. Briefing in Play Plus includes everything from Briefing in Play and adds enhanced content and customization features. Briefing Trader includes everything from Briefing in Play and adds a host of features for active traders, including trading calls with entry and exit points and technical scans and setups.
theflyonthewall.com – Live news feed including Live News, which offers an average of 800 stories, headlines and analyses a day.
Fundamentals
Subscribe to Reuters Worldwide Fundamentals to receive comprehensive, high-quality financial information on thousands of companies worldwide. Get quick access to eight pages of mission-critical data including:
Business Summary
Financial Statements
Analyst Ratings/Forecasts
Comparable Companies
Dividend Calendar
Financial Ratios
SEC Filings
Insider Trading Report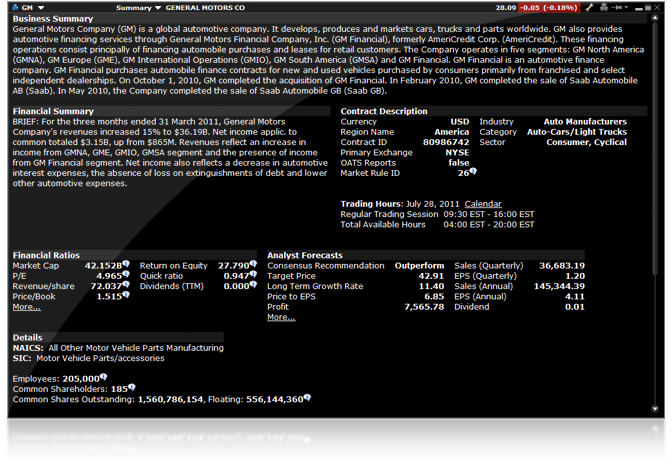 Analyst Research
Morningstar Research Reports
Morningstar Equity Research Reports - Provide a 1-star to 5-star rating based on their analysts' 'fair value estimate' of how much a company's business is worth per share.
Morningstar ETF Research Reports - Evaluate the opportunity of ETFs to build more efficient portfolios ('Portfolio Builders') and the potential to beat the market ('Market Beaters').
Morningstar Equity Corporate Credit Rating Reports - Measure the ability of a firm to satisfy its debt and debt-like obligations.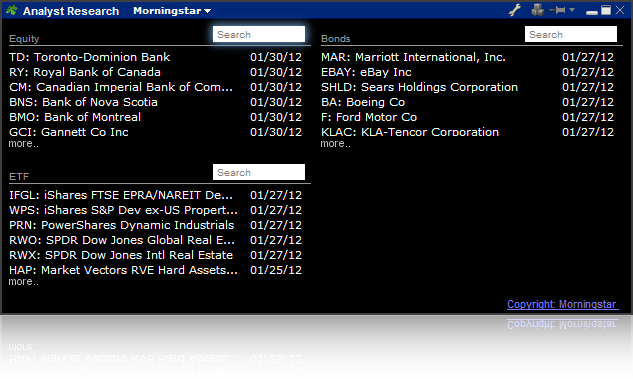 Zacks Equity Research
Zacks Equity Research Reports provides expert quantitative and qualitative analysis for investors on approximately 1,000 U.S. and Canadian traded companies and NYSE traded ADRs, as well as one-page snapshot reports on another 2,900 U.S. companies.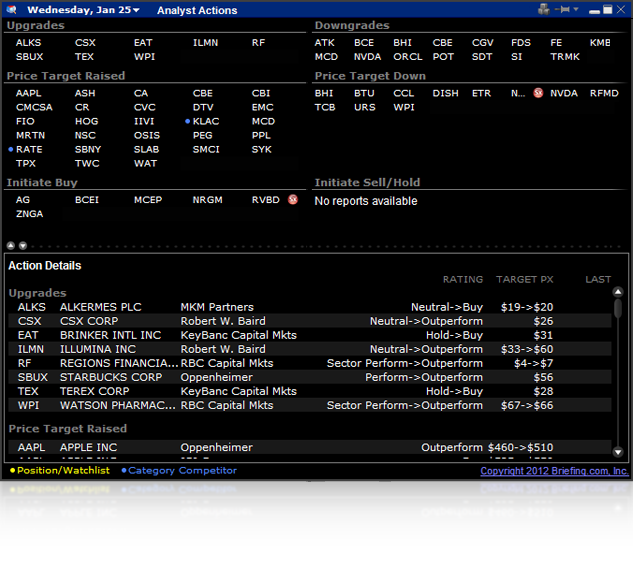 Events Calendars
For major events, consensus estimates are provided and then actual values are updated within milliseconds of announcement. Reuters StreetEvents Calendars include four calendars of critical events, including:
Corporate Earnings
Economic Indicators/Events
Dividends/Splits
IPOs/Secondaries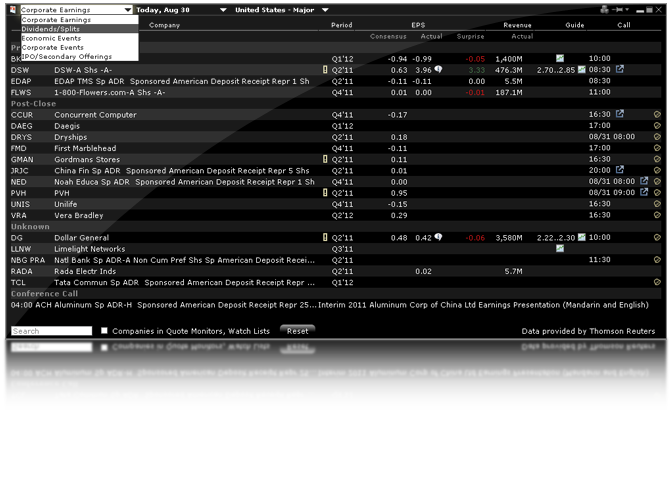 Snap-Together Workspaces
It's easy to add windows and redesign your workspace with snap and click elements. Simply click or drag any window element to snap it into your workspace. Grab the anchor window to move the entire workspace.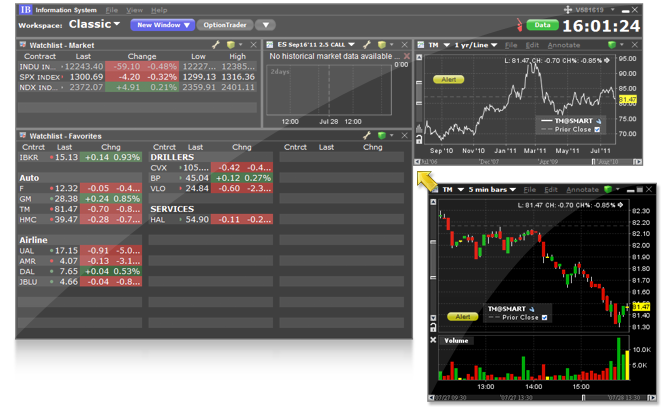 Grouping
Link windows and symbol action by color using the grouping blocks, and watch the symbol automatically change in every linked window when you change the symbol in one window.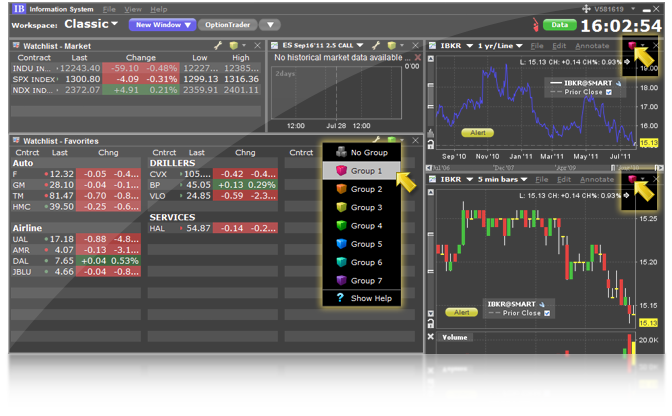 *Free for active accounts. A monthly 7.00 USD fee will be waived whenever the monthly commissions generated in the account reach 30.00 USD
Any trading symbols displayed are for illustrative purposes only and are not intended to portray a recommendation.