Trader Workstation's real-time charts put powerful and
flexible technical analytics at your fingertips.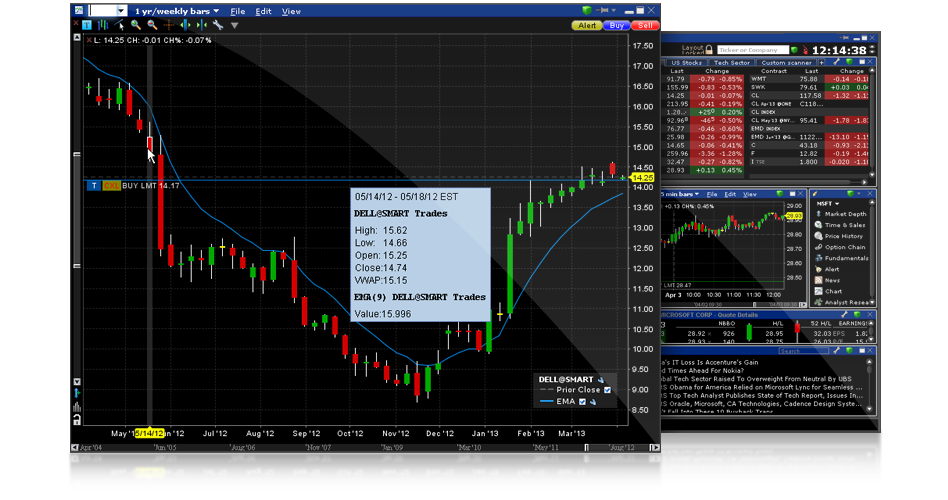 TWS real-time charts offer traders these benefits:
---
Flexible and Scalable
Open a single chart or multiple charts in a single window.
Chart a single asset or compare multiple assets in a single window.
Use the Chart Dashboard to quickly change the underlying, chart display type and time period.
View data for periods of one minute to five years or longer.
Rescale price and time ranges using the vertical and horizontal scrollbars.
Display pertinent market data directly on the chart in the customizable Quote Zone.
Add Index Comparisons as benchmarks.
Integrated Trading
Instantly transmit orders from the chart using Hot Buttons.
Set alerts based on time, price, margin, and other criteria directly on the chart.
Manage, modify and transmit orders from the ChartTrader order management panel.
Powerful Customization
Define a complete set of chart parameters from a single window.
Quickly and easily add trend lines and annotations to your charts.
Create templates from your favorite charts and apply them to other underlyings.
Access the features you use most from the editable toolbar and consolidated menus.
View your current position on the chart using the graphical position indicator.
Display volume at specific price levels in the Volume Histogram.
Technical Indicators and Chart Studies
Choose from over 120 technical indicators and overlays to add to your charts, from ADX/DMI to the Zigzag.